So, remember how yesterday in my brief moment of good karma, I was trying to be all witty and cool and said
hey, this is totally going to bite me in the ass later?
Well GUESS WHAT? IT TOTALLY BIT ME IN THE ASS LATER!
I hate being right.
Today I woke up in midair. Arguably, my horrific day did not start there. Being in midair, while disarming, is not necessarily unpleasent. It does, however, signal that you are going to get real up close and personal with the floor in about half a second and THERE started the day.
Yes, I fell out of bed. Yes, I landed on my face. Yes, the left side of my forehead swelled up so that it appeared that my brain was trying to escape.
Which might actually be true, but that's another post.
Anyway, I walked into Spanish class as my bruises began to turn a lovely shade of violet, prompting my professor's justified reaction of "What
happened
to you?" And really, people, it's humiliating enough to have to explain that you and your coordinated self fell out of bed, but it's even better when you get to do so in a language that you speak at a toddler-equivilant level.
Now, I'll spare y'all the exhaustive list of every time I tripped or otherwise injured myself, but I would like to point out the highlights, including how the pen I was chewing on in Econ exploded, AND how when I opened the door to my room, I squished NOT ONLY my feet, but also The Awesome Roommate's feet...AND how I had to face...
...THE WATER BOTTLE OF DOOM!!!
(That works better if you imagine lightning and cool sound effects. WORK WITH ME.)
I naievely purchased a bottle of flavored water and attempted to open it. I failed, but I have zero upper body strength. When I gave the bottle of water to The I-can-bench-press-triple-digit-numbers-Awesomely Roomate to open and SHE couldn't get it...I began to worry that the water was possessed. Then I tried to open it again and failed so spectacularly that I gave myself a blood blister.
I believe it was at that point that I attacked the water bottle with a pair of scissors.
It was shortly after that point that I learned that if a water bottle is that tightly vacuum-sealed, when you do get it open, it sprays you in the face.
I think I'm going to go lie down and cry.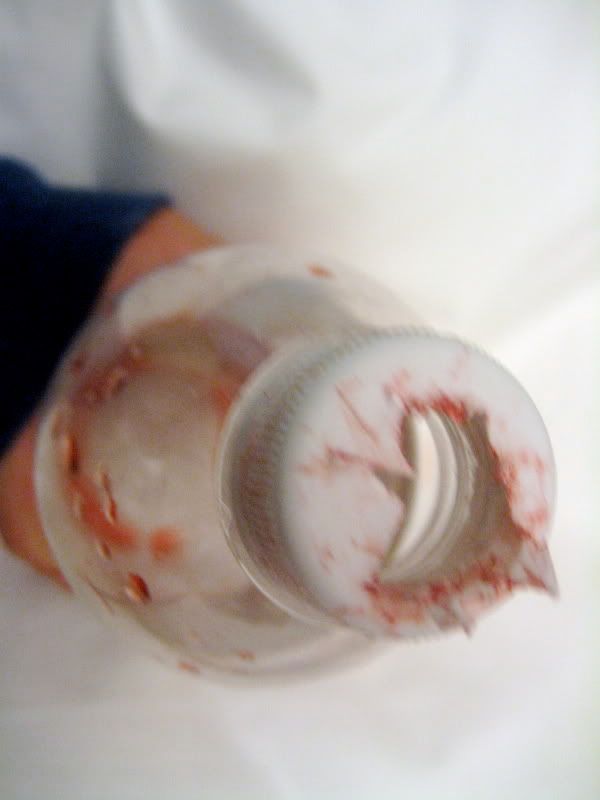 This is the water after I killed the lid. The red is because it's a flavored knock off of Vitamin Water, not because it's bleeding.