So, there's this Ben & Jerry's flavor, and it's called VERMONTY PYTHON.
Seriously.
IT HAS THE CATAPULTED COW ON THE LABEL!!! And little fudge cows inside!!!!
And I can't link directly to it on benjerry.com because of their sucky flash interface, but go check it out.
Because seriously? In addition to all the cow-ness? IT'S COFFEE LIQUEUR FLAVORED.
With chocolate.
So, as this is obviously the perfect ice cream flavor and
as our fridge obviously isn't safe,
I took...appropriate measures.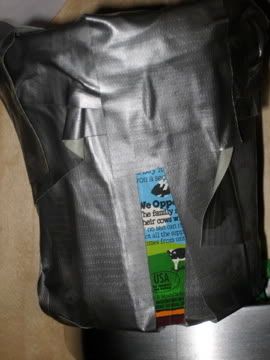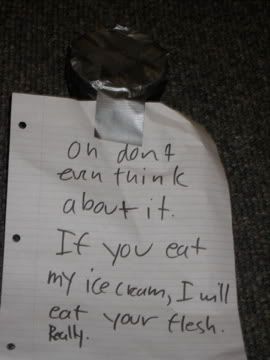 Behold the power of duct tape!!!
So the good news is that no one has eaten my ice cream.
The bad news is that that includes me.
Because I can't get the duct tape off.